In its efforts to win the bid to host the 2022 FIFA world Cup, Qatar has announced plans to build five stadiums. In fact Qatar 2022 has even released the concept plans for the design of these proposed stadiums. Designed by Albert Speer & Partner GmbH, these proposed stadium designs display striking and dramatic looks but also incorporate state-of-the-art technology in an effort to stand out from the crowd bidding to host this popular tournament. These proposed designs were unveiled to the world at 'Sport Accord', the world's largest sporting convention in Dubai.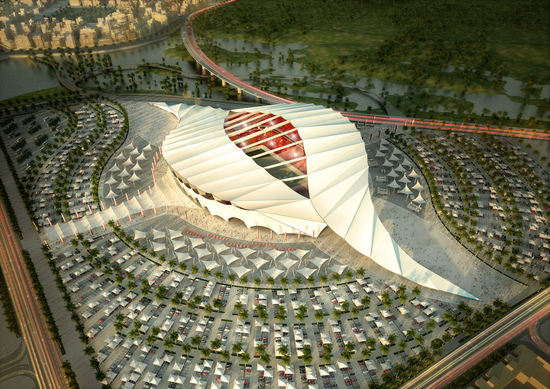 Each one of the stadiums has either been inspired by a specific element of Qatari culture and tradition, or acts as a symbol to the rest of the world of the relationship that Qatar shares with the competing nations. What is more, the structures will make the most of solar technology to serve the power requirements. Using innovative climate control technology, temperatures within the stadiums are set to stay below 28°C, despite the nation's fierce heat, making the 2022 FIFA World Cup the first ever cooled outdoor sporting event.
What is more, Qatar 2022 has announced that post the world cup, many modular components of the stadiums no longer needed will be dismantled and shipped to other countries in order to promote football development.
Currently, AS&MP have presented designs for five football stadiums located across Qatar, two of which are adaptations of existing buildings. The proposed stadiums are as follows: The Al Rayyan Stadium is currently situated 20km northwest of the capital, Doha. Plans are to adapt the existing building, surrounding it in a membrane-like structure onto which will be projected match updates, tournament information and other filmic material. The plans also include doubling the seating capacity.
The second adaption will be the Al Gharafa stadium situated close to the city of Doha. The facade of the existing stadium is to be transformed into a vivid explosion of color and the seating capacity will be doubled. Al Shamal stadium will be a brand new stadium with a capacity for up to 45,120 people.
Proposed to be situated in north of Qatar, the design of this stadium has been inspired by the traditional local fishing boats of the Gulf, 'dhows'. Al Wakrah is another brand new stadium that is more than a stadium, in fact it is proposed to be a huge sports complex complete with multi-purpose hall, themed swimming-pool, spa zone and shopping mall alongside the obvious sports facilities.